Ragman Rolls
- Index Page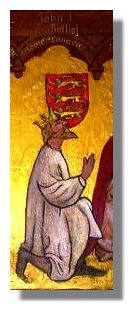 In 1291, There were a number of claimants to the Scottish throne and King Edward I of England "volunteered" to hear their case and decide who had the most valid claim. Those involved met Edward at Norham on Tweed in 1291. Edward insisted on all the nobles signing an oath of loyalty to him. Some declined but many signed what was the first (and smaller) of the "Ragman Rolls"
When Balliol began to resist the demands of Edward in 1296, the English King over-ran Berwick-upon-Tweed and defeated the Scots at the Battle of Dunbar. He then marched across Scotland as far as the Moray Firth, capturing castles and removing such precious items as the Stone of Destiny, the Scottish crown and huge archives of Scotland's national records.
On 28 August, 1296, Edward held a "parliament" at Berwick. All the prominent Scottish landowners, churchmen and burgesses were summoned to swear allegiance to Edward and sign the parchments and affix their seals, many of which had ribbons attached. In addition to such prominent people as Robert Bruce, 6th Lord of Annandale, his son, the 2nd Earl of Carrick and William Wallace's uncle, Sir Reginald de Crauford, 2,000 signatures were inscribed, making it a most valuable document for future researchers.
It is suggested that the term "Ragman Rolls" derived from the ribbons attached to the seals on the parchments but the name may also have been derived from an earlier record compiled for the purposes of Papal taxation by a man called Ragimunde, whose name was corrupted to Ragman.
The list of names is based on those published by the "Bannatyne Club" in Edinburgh in 1834.
Click on the selected letter of the alphabet below.


---
Where else would you like to go in Scotland?