Kings and Queens of Scotland - Part 1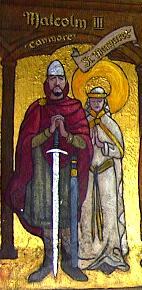 King Malcolm III ("Canmore") and Queen Margaret
Introduction
This page covers all the kings and queens of Scotland in sequence up to the end of the 13th century. Part 2> covers from Robert the Bruce to Union of the Parliaments in 1707. The dates shown beside each entry relate to the years in which they reigned (although in the early years historians are sometimes uncertain of the precise dates). There is also a further page showing a chronology of all the kings and queens of Scotland, England, United Kingdom and France.

The Early Years
Following the final withdrawal of the Romans from Scotland in the 4th century, there were a number of tribal groupings whose boundaries changed over the centuries. In the north, the Picts covered the Highlands and parts of the Lowlands as far as Angus, Fife and Stirling. Although little is known of the Picts and apart from late lists of kings written in Latin, they left no written record. The earliest king who is more than just a name on a list is Bridei in the 6th century who was a son of the Welsh king Maelcon. Bridei won a victory over Gabran, the most powerful of the Scots in Dalriada which was roughly where Argyllshire is now. Bridei was the first Pictish king to show an interest in Christianity and he met St Columba at his power base near Inverness.

South of the Picts and Scots was the kingdom of Strathclyde, centred on Dumbarton Rock. To the east, in Lothian and around present day Edinburgh were the Gododdin, who spoke a form of early Welsh language. They were eventually overwhelmed by the Nothumbrians. In the south-west was the kingdom of Rheged on both sides of the Solway Firth.

Kenneth mac Alpin> was the first king to unite the kingdoms of Dalriada in the west and the Picts and as such is regarded as the first king of Scotland.

Kenneth I (843-858)

Kenneth mac Alpin or Kenneth, son of Alpin, was 35th king of Dalriada. By inheritance (his grandmother was a Pict) and by conquest, he also became king of the Picts in 843 and by 858 ruled as far as the river Tweed (near the current English border). One of his daughters married the King of Strathclyde and their son became King Eochaid (below). On his death in 858, Kenneth's brother became King Donald I and his cousins later became Kings Constantine I and King Aed.

Donald I (858-862)
Also a son of Alpin, Donald was described at the time as "the wanton son of the foreign woman". He extended Dalriadic law into Pictland and died of natural causes near Scone, Perthshire.

Constantine I (862-878)
Possibly a son of King Kenneth I, Constantine faced a number of Viking invasions and was killed in a battle fighting the Danes.

Aedh (878-879)
Another son of Kenneth I and brother of Constantine I, he was killed by Giric, a son of Donald I.

Eochaid (879-889)
Grandson of Kenneth I, whose daughter married Run, King of Strathclyde and gave birth to Eochaid, thus eventually extending further the kingdom of Alba. He was deposed shortly before his death.

Donald II (889-900)
Donald II was the first monarch to be called "Ri Albain" or "King of Scotland" despite the fact that much of northern Scotland as far as Moray was held by the Norse Earl Sigurd from Orkney. Donald was a son of Constantine I and was described as rough and cunning. He was killed by men from the Mearns near Dunottar and, like most of the early kings of Scotland, was buried on Iona.

Constantine II (900-942)
Son of Aedh. After an unsuccessful invasion of Northumbria, Constantine had to submit to the Saxon King Edward the Elder, son of Alfred the Great. Constantine was also defeated in a later battle against Athelstan, Edward's son, at Brunanburgh. He renounced the throne in favour of his cousin, Malcolm I and became a monk at St Andrews. He died in 952.

Malcolm I (942-954)
Malcolm I was a son of Donald II. He was killed in battle with the men of Moray and was buried at Iona.

Indulph (954-962)
King Indulph (also spelt Indulf) was a son of Constantine II. He defeated the Danish King Eric of the Bloody Axe at the Battle of the Bauds on the Muir of Findochty (pronounced Finechty), in present day Banffshire, in 961. Like his father, he abdicated and entered a monastery.

Dubh/Duff (962-966)
Son of Malcolm I, and father of Kenneth III. Died in battle.

Culen/Cuilean/Colin (966-971)
Another great-great-grandson of Kenneth I, and a son of Indulf, he was killed by a treacherous booby-trap at Fettercairn, set by the daughter of the Thane of Angus.

Kenneth II (971-995)
Kenneth II was the son of Malcolm I and therefore a great-great-grandson of Kenneth I>.

Constantine III (995-997)
Son of King Culen and grandson of Constantine II. He may have succeeded to the throne by killing Kenneth II and may in turn have been killed by Kenneth III.

Kenneth III (997-1005)
Son of King Dubh, he was nicknamed "Donn" or brown-haired. He was defeated and killed at Monzievaird by his cousin, Malcolm II. None of his sons became king.

Malcolm II (1005-1034)
Malcolm II was son of Kenneth II but, due to disputed succession, he did not come to the throne until ten years after his father's death, having killed his cousin Kenneth III. The last of the House of Alpin, he did not have any sons to succeed him so he arranged good marriages for his daughters. His daughter Bethoc married the Abbot of Dunkeld and their son became Duncan I. Another daughter married Earl Sigurd of Orkney and their son Thorfinn brought the lands of Caithness and Sutherland under the control of the King of Alba. Malcolm made an alliance with the King Owen the Bald of Strathclyde and together they defeated King Canute at the Battle of Carham in 1018. When King Owen died without an heir, Malcolm claimed Strathclyde for his grandson, Duncan. His enemies disliked this and murdered him at Glamis in 1034.

Duncan I (1034-1040)
Grandson of Malcolm II, Duncan I first became King of Strathclyde and then Scotland on the death of his grandfather. He married the cousin of the Earl of Northumberland and his two sons, Malcolm III and Donald III, eventually also became king. He was defeated in battle by his cousin Thorfinn, Earl of Orkney and failed in an unsuccessful siege of Durham in the north of England. He was defeated and killed by Macbeth near Forres in Morayshire.

Macbeth (1040-1057)
Macbeth's> origins are obscure - his mother was a daughter of Kenneth II or III or possibly Malcolm II and his father was Finlay McRory, Mormaer of Atholl and lay abbot of Dunkeld. He killed Duncan I but unlike the Shakespearean Macbeth, he was a powerful and successful monarch. His Queen, Gruoch, was a grand-daughter of Kenneth II. Macbeth was defeated by Malcolm Canmore, with an English army, at Dunsinane in 1054. A second invasion in 1057 saw his defeat and death at Lumphanan, near Aberdeen by Malcolm and his English allies led by Earl Siward of Northumbria.

Lulach (1057-1058)
Stepson of Macbeth, nicknamed "The Fool", Lulach became king on his stepfather's death. He was the first recorded monarch to have been crowned at Scone but was defeated and killed by Malcolm Canmore less than a year later.

Malcolm III (1058-1093)
Malcolm "Canmore"> ('ceann' means head or chief and 'mor' means great) was the son of Duncan I and went into exile in Northumberland when his father was killed by Macbeth. With English support, he defeated and killed Macbeth at Lumphanan in Aberdeenshire in 1057 and Lulach, Macbeth's stepson, the following year. He founded the dynasty of the House of Canmore which lasted until the House of Stewart. By his first marriage to Ingibiorg (daughter of Thorfinn of Orkney) he had two sons, Duncan II (see below) and Donald. Following Ingibiorg's death he married Margaret, the sister of Edgar Atheling, who would have become King of England if William the Conqueror from Normandy had not over-run the country. By this marriage there were six sons, four of whom (Duncan, Edgar, Alexander and David) would become king. Malcolm made raids into Northumbria and Cumbria but William marched north and Malcolm was forced to submit and sign the Treaty of Abernethy in 1071. A final incursion in 1093 led to his defeat and death at Alnwick. His son and heir, Edward, died in the same battle and Queen Margaret died four days later.

Donald III (1093-1094)
Donald Bane "the Fair" was a son of Duncan I and a brother of Malcolm III. He claimed the throne when Malcolm III and his son were killed on the same day. During his short reign, in a Celtic backlash, he expelled all the English courtiers brought in by Malcolm and his wife Margaret.

Duncan II (May to November, 1094)
Son of Malcolm III by his first marriage, Duncan grew up in Normandy (he had been handed over as a hostage to William the Conqueror) and ousted his uncle Donald III with the support of the English King William Rufus. However, Donald fought back and Duncan was killed at Dunnottar by his half-brother Edmund (who supported Donald). Duncan's descendants through William, the Earl of Moray, were a thorn in the side of the King of Scotland until the end of the 13th century.

Donald III (1094-1097)
Having resumed his reign, Donald Bane did not last much longer and was captured, blinded and imprisoned by Edgar, one of the sons of Malcolm III. Donald died in captivity 1099 in Forfar and was buried in Iona.

Edgar (1097-1107)
Fourth son of Malcolm III, Edgar was aged 19 at the death of his father in 1093. He was given shelter by the English (Saxon) King William (Rufus) and in 1097, with the assistance of English troops, he defeated his uncle, Donald III. During his reign, the King of Norway, Magnus Barelegs, forced Edgar to give up "all islands round which a ship could sail" and promptly dragged his galley overland at Tarbert, Loch Fyne to seize a chunk of the mainland Mull of Kintyre too. Edgar (whose Saxon name was noted with disapproval at the time) died peacefully in 1107 and was buried in Dunfermline Abbey. His next brother, Alexander I, became king.

Alexander I (1107-1124)
Alexander I was the fifth son of Malcolm Canmore. Although King of Scotland, he only ruled north of the Forth and Clyde as his younger brother David had been made Earl of Strathclyde, Lothian and the Borders. North of the river Spey and the Western Isles were under Norwegian control. He died in Stirling in 1124 and was buried in Dunfermline.

David I (1124-1153)
The last son of four of the sons of Malcolm Canmore to become King of Scotland, David I> was sent to the English court of Henry I at the age of nine and spent many years there. When his brother Edgar died, David became Earl of southern Scotland and then King of Scotland in 1124 when his other brother Alexander I died also. David brought many knights and courtiers from England and and established a feudal system in Scotland. He introduced many novel ideas such as silver coinage, promoting education and giving audiences to rich and poor alike. During a long and peaceful reign he enacted many good laws and died peacefully in Carlisle in 1153 at the age of 69.

Malcolm IV (1153-1165)
Grandson of David I, Malcolm IV came to the throne at the age of 12 (his father had predeceased him) and was nicknamed "the Maiden". He had to cope with rebellions by Somerled, in Argyll and the Isles and others in Moray and Galloway. Henry II of England also reclaimed Northumberland, Cumberland and Westmorland which had been ceded to Scotland during the reign of David I. After fighting in France on behalf of King Henry of England he returned and defeated Somerled who was attempting to advance eastwards, but not before the town of Glasgow had been sacked . But he never had good health and died in Jedburgh at the age of 23, succeeded by his brother William.

William (1165-1214)
William "The Lion"> was also the grandson of David I. The nickname "The Lion" was accorded to him after his death and may have been due either to his valour and strength or to the heraldic symbol which he adopted - the lion rampant. He attempted to recover land in Northumberland in 1174 but was defeated and captured at the Battle of Alnwick. William was forced to swear allegiance to King Henry II of England which lasted until Henry's death in 1189. He failed to assert his authority over the south-west of Scotland and over MacDougall Lords of Lorne or Macdonald Lords of the Isles. He married Ermengarde de Beaumont who bore him a son (Alexander II) and three daughters (all of whom married English nobles).

Alexander II (1214-1249)
Alexander II was the son of William the Lion and came to the throne at the age of 16. He has a reputation as a wise and well loved monarch, more of a politician than a fighter, although he did support the English barons in their fight against King John. His first marriage was to the sister of King Henry III of England (son of King John). Following her death, he married the daughter of a French nobleman by whom he had one son - who became Alexander III. He founded a number of monasteries and the castles at Kildrummy and Eilean Donan. Alexander died on Kerrara, off Oban on 8 July 1249 while attempting to recover the Hebrides from King Haakon IV of Norway. He was buried at Kelso Abbey.

Alexander III (1249-1286)
Alexander III> was crowned king at Scone when he was eight years old. He successfully defeated an invasion by King Haakon of Norway at the Battle of Largs in 1263. Married to Margaret, daughter of King Henry III of England, his daughter married Haakon's grandson, Eric II - their daughter Margaret later became Queen of Scotland. He had three children but they all predeceased him. Alexander married a second time in order to produce a direct heir but within six months of his marriage his horse stumbled in the dark in Fife as he was returning to his wife and he died at the foot of the cliff.

Margaret (1286-1290)
Grand-daughter of Alexander III, Margaret "Maid of Norway" became Queen of Scotland at the age of three. She was the last of the direct line of the House of Canmore. She left Norway to come to Orkney in 1290 but died on the voyage before reaching Scotland. Prior to this, by the Treaty of Birgham in 1290, King Edward I had guaranteed the survival of Scotland "separate, apart and free without subjection to the English nation" as a result of the six-year-old Margaret marrying the five-year-old future king of England, Edward II. The arrangement was invalidated by Margaret's death.

Interregnum (1290-1292)
There were thirteen competitors for the throne of Scotland at this point, the main ones being John Balliol and Robert Bruce, Earl of Annandale. It was decided to ask the Edward I, King of England to adjudicate. Edward used the situation to his advantage, insisting that the King of Scotland should be subservient to the King of England (contrary to the principles set out in the Treaty of Birgham - see above). Edward eventually appointed John Balliol - at the same time demanding custody of many of the important Scottish castles.

John (1292-1296)
John Balliol, who owned estates in both Scotland and England, was crowned at Scone in 1292. However, Edward's demands, including Scottish soldiers for his war in France, became increasingly intolerable. John attempted to renew the "Auld Alliance" with France but Edward invaded Scotland and routed the Scots at the Battle of Dunbar in 1296. John fled but was forced to make an abject surrender. His royal insignia was stripped from him (giving rise to his nickname "Toom Tabard" - empty coat). After a spell imprisoned in the Tower of London he was released and spent the rest of his life in France.

Interregnum (1296-1306)
With John Balliol out of the way, King Edward effectively ruled Scotland for the next ten years. William Wallace> defeated Edward at the Battle of Stirling Bridge in September 1297 and governed Scotland briefly but was defeated the following year at the Battle of Falkirk. Wallace continued a geurilla campaign but was captured and executed in 1305. It was not until Robert the Bruce emerged and was crowned at Scone in 1306 that Scotland regained her own monarch.



The story of Scotland's Monarchs continues in Part 2> which covers from Robert the Bruce to the Union of the Parliaments> in 1707 when Queen Anne was monarch of both Scotland and England.
---
Where else would you like to go in Scotland?