Flowers of Scotland - Spring
- Flowering Shrubs (1)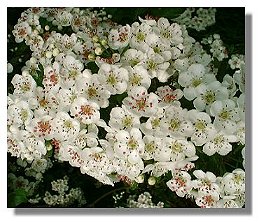 Hawthorn
There's a wide variety of flowering shrubs in the springtime - this selection includes kerria, lilac, paeonia, hawthorn, flowering currant and berberis. And there's the white flowers of pieris and a catkin to add to the show.
Return to Index or go to Next Thumbnails Page for More Flowering Shrubs.


---
Where else would you like to go in Scotland?