Flowers of Scotland - Spring
- Daffodils and Tulips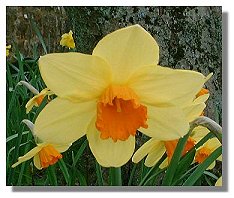 Daffodil
Swathes of daffodils are a real indication that spring has arrived - and tulips will not be far behind. On this page are some "double" daffodils which do not have the usual trumpet shape and there is a "parrot" tulip with petals with ragged fringes to the petals.
Return to Index or go to Next Thumbnails Page for More Tulips.


---
Where else would you like to go in Scotland?