Flowers of Scotland - Spring
- Tulips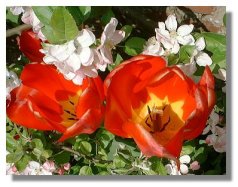 Tulips
Garden tulips were introduced into Britain in the 16th century. Since then, there has been a proliferation of hybrids in many colours and shapes, making this bulb one of the most versatile in the garden. The bulk of tulips sold in Britain still come from Holland.
Return to Index or go to Next Thumbnails Page for Apple and Cherry Blossom.


---
Where else would you like to go in Scotland?