Flowers of Scotland - Spring
- Apple Blossom and Flowering Cherry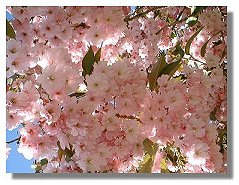 Flowering Cherry
Flowering cherry trees (as distinct from those which produce fruit) were introduced from Japan. They have double blossoms, making them particularly attractive. They have thrived in Scotland both in urban gardens and in open public spaces.
Return to Index or go to Next Thumbnails Page for Rhododendrons.


---
Where else would you like to go in Scotland?