Flowers of Scotland - Spring
- Rhododendrons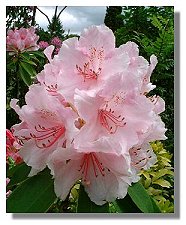 Rhododendron
The acid, peaty soil in much of Scotland has meant that this import from China and Japan has thrived here. In recent years, a large number of different varieties and colours have been created, as this selection illustrates.
Return to Index or go to Next Thumbnails Page for Azaleas.


---
Where else would you like to go in Scotland?