Colours of Scotland - Autumn/Fall
- Index Page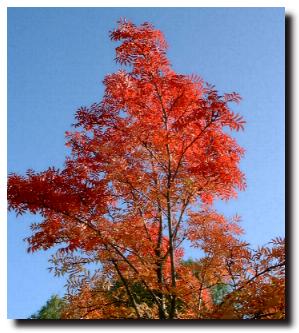 The rowan tree has been important in Scotland since Celtic times.
Some of the gardening books rather unkindly describe August as an Autumn month in Scotland! But the illustrations in these pages were all taken in September and October. While Scotland may not rival New England or Canada in the Fall, there are still plenty of trees, flowers and berries to make quite a colourful splash. If you want to see the flowers of Scotland at other times of the year, there are separate sections on this site on Spring> and Summer> flowers.

Each of the pages below contain at least four good-size graphics. Be patient if they take a little time to download, particularly at busy times.
>Flowers
Hydrangea, fuschia, sedum and roses are still very much in bloom at the end of October.
>Heathers and Thistles
There are varieties of heathers in bloom at all times of the year. Autumn is the time when the hills turn purple in the Highlands.
>Edible Produce
The flowers of springtime have gone through their cycle and become brambles, rose hips, haws, rowanberries and wheat.
>More Berries
Viburnum, holly, hawthorn and the Rose of Sharon.
>Trees
The foliage of acer, rowan, holly and sycamore brighten up the the shortening days.
Leaves>
Close-ups of azalea, maple, alder and holly.
>Miscellany
Mushrooms, oak - and a dramatic beech.
---
Where else would you like to go in Scotland?