Flowers of Scotland - Spring
- Camelias, Magnolias and Orchids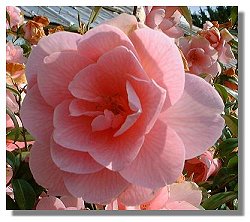 Camelia
Although Scotland has a relatively mild climate in winter, there can be frost, even in early spring. Despite this, gardeners still attempt to grow delicate flowering plants like camelias and magnolias, sometimes only to see the blooms damaged by a late frost at night, but sometimes with some success. But orchids are best grown inside, under glass.
Return to Index or go to Next Thumbnails Page for Miscellany.


---
Where else would you like to go in Scotland?