Flowers of Scotland - Spring
- Primrose Family and Saxifrage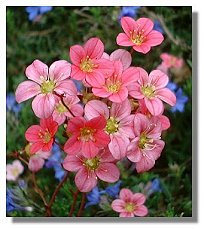 Saxifrage
Primroses, sheltered in woods and shrubbery, appear early in springtime.They are followed by primulas, polyanthus and, in the late spring, by the various varieties of mossy saxifrage.
Return to Index or go to Next Thumbnails Page for Daffodils and Tulips.


---
Where else would you like to go in Scotland?