Scottish Castles Photo Library
- Arnot Tower, Kinross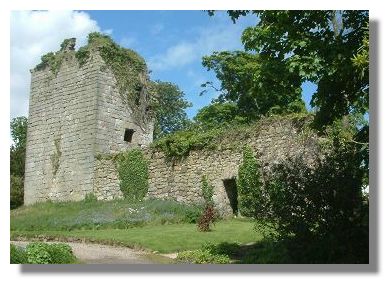 There is a locality near Kinross, between Scotlandwell and Leslie in Fife, named Arnot and it is from this that the Arnot / Arnott family derived their surname after settling there early in the 12th century - there are records dating back to 1105 linking the Arnots to the area. David Arnot of Fyfe (Fife) was one of the 2,000 noble landowners who were required to swear allegiance to King Edward I of England in 1296. Nicol Arnot was a loyal supporter of King Robert the Bruce, Robert Arnot was killied at the battle of Flodden in 1514 and a David Arnott of that Ilk was one of the contestants in an archery contest between Scotland and England in 1535 (Scotland finished as winners).

A tower was built in the early 1400s though earlier fortifications may have occupied the site. The building seen today was probably built in 1507 at a time when a charter was granted making the lands a barony for the Arnot family of that ilk. There was a spiral staircase running from a vaulted cellar in the south-east corner (now collapsed) and there was a hall above and two upper storeys. The Arnots abandoned their tower around 1700 and it subsequently became a ruin.

Nowadays, the castle and the adjoining gardens are used to host weddings and other functions - see Arnot Tower Gardens.

As a ruin, Arnot Tower seems to have provided an inspiration for poets and painters. In 1760, Michael Bruce (1746 - 1767) wrote a poem about the love affair between two members of the Arnot and Balfour families (the latter based at Burleigh Castle ) who were in the middle of a bitter feud - shades of Romeo and Juliet!
Return to the Castles Photo Library Index>
or go to the next castle: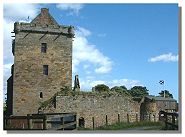 Balgonie Castle


---
Where else would you like to go in Scotland?


Where else would you like to go in Scotland?