Scottish Castles Photo Library
- Burleigh Castle, Fife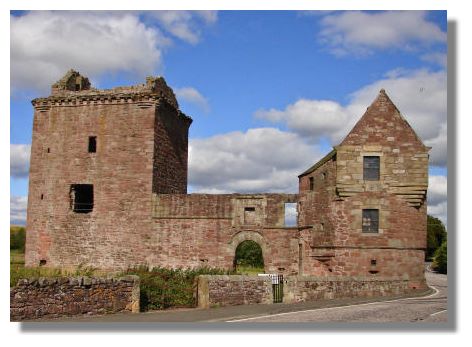 This oddly shaped castle was started by the Balfours of Burleigh in the second half of the 15th century. The tower house (on the left of the picture above) and a wall of a later courtyard with an arched gateway still survive.

The round base with square caphouse on top (on the right of the picture above and in the Historic Scotland graphic) which gives the building its unusual shape, were built in 1582 by Sir James Balfour of Mountquhaine and Pittendreich and his wife, Margaret Balfour, who was the heiress of the Burleigh branch of the Balfours; their initials are visible on the wall.

King James V is known to have visited Burleigh and King James VI was frequently entertained there (before he departed for London in 1603 at the Union of the Crowns, returning to Scotland only once).

See also Places to Visit - Burleigh Castle> for more information.

Return to the Castles Photo Library Index>
or go to the next castle:

Caerlaverock Castle.


---
Where else would you like to go in Scotland?


Where else would you like to go in Scotland?