It's as easy as ABC….studying whisky that is. If you've got a lifetime, and a deep pocket. Of course, many of you dear readers out there in cyberspace, don't have to pay the obscene taxation levels we humble producers of the water of life are subjected to, by the wicked British taxman. So you don't need pockets as deep as ours!
I'm going to test you later on this alphabet, so you'll need to keep your mind as clear as a Highland burn, rushing down as the snows melt on the Cairngorms.
A is for age. A law passed by the British Parliament in 1915 prohibits the sale of any distillation of less than three years as Scotch whisky. To comply it has to be aged in oak wood, usually previously used for Bourbon, but also for sherry, in a bond warehouse with control by Customs and Excise. Whisky improves as it matures in years, and good malt is best between 10 and 20 years. It often declines as it goes above this age, but I have tasted superb Springbank that has matured in cask since the 1960's.
B is for Bond. This is the warehouse where the whisky matures, and tax is paid as it leaves the bond. No distiller or broker can take his whisky out of here except with the full knowledge of the Exciseman.
C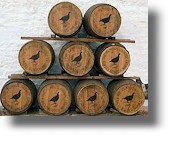 is for cask. The oak barrel used to mature the whisky is usually American in origin, or alternately, Spanish. Sherry wood offers a mellowness that is particularly favoured by Macallan who use casks that have previously stored Oloroso. Glenmorangie of Tain in Easter Ross have had some success with using old port casks. A cask (called a butt) holds some 500 litres, but the longer it ages, the more the spirit evaporates, giving the angels their share.
D is for dram. This is the term indicating a measure of whisky most used in many parts of Scotland. Professor Daiches believes it derived from the Greek drachma indicating one eighth of an ounce in apothecary's measurements. It has been in general use for over 3 centuries, and although it has no clearly defined amount, it is most usually thought to be the traditional quarter of a gill.
E is for Edradour. Set in the southern Highlands at Pitlochry in Perthshire, is Scotland's smallest distillery, Edradour. Established on a farm in 1825, this tiny producer has only three working staff, and its flavoursome and aromatic product is consequently not widely found. If you discover it, you are in luck as it is of a very high quality.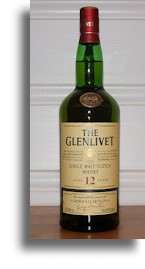 F is for fillings. When whisky is newly produced much of it is taken by the blenders and put in their own casks to be stored. Later it used by that blender when he decides it is ready to mix with other malts and grain whisky to give the distinctive characteristics he wants for his blend. This new whisky is known as "fillings".
G is for Glenlivet. Although only one whisky is allowed to call itself "The Glenlivet", this bleak Banffshire glen stretches for over 14 miles, and in its wide breadth there are many distilleries. Two hundred years ago there were well over 200, producing illegally, and the quality of the water flowing off the granite of the mountains, and through peat, has much to do with its fame.
H is for Highland. Scotch whisky is defined as being produced in four areas. Lowland, Island, Campbeltown and Highland, of which the latter is by far the biggest. Speyside is part of the Highlands but deserves a category of its own. Highland whiskies vary enormously from Poulteney of Wick to Tullybardine in the South of Perthshire, Glenury Royal in Kincardine on the East Coast to Ben Nevis in the far west. It is impossible to categorise them in flavour bouquet or body as they are so diverse.
I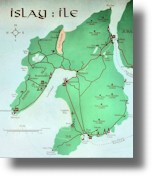 is for Islay. The island whisky capital of the world. Here, off the west coast, not far from Northern Ireland, there are currently seven working distilleries. Ardbeg, recently re-opened, Bowmore, Bunnahabhain, Bruichladdich, Caol Ila, Lagavulin and Laphroaig. Port Ellen distilled up to 1983, although it still produces malt for the others. Islay malts are distinctively peaty and smoky, but each has its own characteristics.
J is for Jura. This long island whose name means in Norse "Island of the deer", is home to a distillery which can trace its roots back to the 17th Century. The dark peaty water for the stills falls from a loch for over 1000 feet to the distillery in the island's only village. A surprisingly light colour, it is not as peated as an Islay malt, but you can detects seaside saltiness traces after the initial sweetness.
K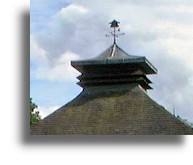 is for Kiln. In the mid 18th century the pagoda shaped distinctive roofs of whisky kilns began to appear. In these buildings the green malted barley is dried, still over peat which adds flavour, and this stops further germination. After 36 - 40 hours or so the dried malt is taken to be ground (grist), before mashing, or mixing with hot water to continue the process.
L is for Lowland. For over 350 years this has been the defined name for whiskies produced south of the Highland fault line. Few distilleries are active today, but their light soft characteristics are essential in blending. Glenkinchie from the great barley producing area of East Lothian is the most widely available single malt from the Lowlands. You would find this attractively light straw coloured, sweetish, with a fine floral nose.
Well, dear reader, I am being summoned from my keyboard by "She who must be obeyed", but the second half of the whisky alphabet can be found at Whisky Alphabet M to Z.
Here in the little ancient burgh of Biggar, which we call home, we are preparing to burn out the old year, and welcome the new, with our huge 20 ft high street bonfire. To the skirl of the pipes we'll see in the last year of the millennium with a glass in our hand and a lass on our arm. A dram good way to celebrate. May your New Year be full of joy.
Slainthe, Arthur.