- Glendoick Gardens, Angus
- Enkianthus Campanulatus



From a distance, Enkianthus is not a particularly striking shrub or small tree. But close up, the masses of small (1cm/¾" long) cream flowers with pink stripes are extremely attractive. Which may explain why it is becoming increasingly popular in suburban gardens.
Go to the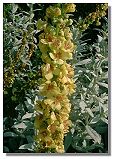 Next Illustration in the series.
Or return to the Thumbnails Index>.
---
Where else would you like to go in Scotland?