- Glendoick Gardens, Angus
- Cardiocrinum Yunnanensis



Although not immediately apparent from this graphic, the flower trumpets of this Cardiocrinum tower nearly nine feet above the ground. The bulb from which it grows can take up to ten years to produce its flower - and then dies after all the effort. Fotrunately, it produces bulblets to start the process off again. Glendoick has quite a number of these impressive plants growing in the woodland area of the estate.
Go to the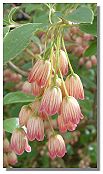 Next Illustration in the series.
Or return to the Thumbnails Index>.
---
Where else would you like to go in Scotland?