- Glendoick Gardens, Angus
- Deutzia



Deutzia is a free-flowering bush which comes in many varieties, all them attractive. This particular example was growing in a shady part of the woodland walks in Glendoick and shone out like a beacon.
Go to the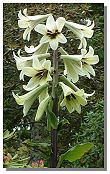 Next Illustration in the series.
Or return to the Thumbnails Index>.
---
Where else would you like to go in Scotland?