- Glendoick Gardens, Angus
-



The Pagoda Garden at Glendoick has a pond around which various water-loving plants are grouped - including this Candelabra Primula. The flowers are carried as a series of whorls up the stem, with succeeding layers appearing at the top as the long flowering season progresses.
Go to the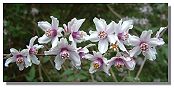 Next Illustration in the series.
Or return to the Thumbnails Index>.
---
Where else would you like to go in Scotland?