- Glendoick Gardens, Angus
- Viburnum



There is a vast range of different species within the Viburnum family so it was just as well that Glendoick does well with attaching labels to most of the plants. This Viburnum is Plicatum Mariesi. This is a deciduous shrub with spectacular flowers. Its horizontal branches create an attractive tiered effect.
Go to the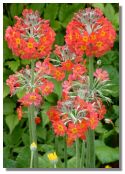 Next Illustration in the series.
Or return to the Thumbnails Index>.
---
Where else would you like to go in Scotland?