- Glendoick Gardens, Angus
- Tropaeolum Speciosum



One of the Nasturtium family, Tropaeolum is an amazing climber/creeper which marches over hedges and shrubs, turning otherwise plain green vegetation into a riot of colour. For obvious reasons, it is also known as the Scottish Flame Flower. When the flowers are over in late summer, interesting bright blue berries surrounded by purple scales appear in autumn/fall. Although the individual flowers are small, measuring only 2.5cm (1") across, this creeper spreads to over ten feet (3 metres).
Go to the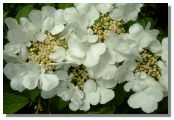 Next Illustration in the series.
Or return to the Thumbnails Index>.
---
Where else would you like to go in Scotland?