- Glendoick Gardens, Angus
- Nomocharis



These lily-like flowers originated in the Himalayas and can be tricky to grow as they require partial shade and a rich organic soil which is damp but free-draining. But as can be seen, they provide an interesting and colourful flower.
Go to the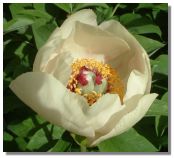 Next Illustration in the series.
Or return to the Thumbnails Index>.
---
Where else would you like to go in Scotland?