- Glendoick Gardens, Angus
- Mecanopsis



The Mecanopsis most commonly found in Scotland is the one with sky-blue flowers which can measure up to 10cm (4") across (as in the previous illustration). But Glendoick has a large number of different varieties on display, including this attractive yellow one which is of a similar size.
Go to the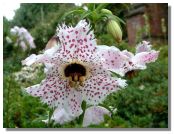 Next Illustration in the series.
Or return to the Thumbnails Index>.
---
Where else would you like to go in Scotland?