- Glendoick Gardens, Angus
- Magnolia



Magnolia is one of the earlier flowers to appear in the springtime - and in Scotland can sometimes suffer from late frosts. So it was quite a surprise to find this magnificent Magnolia tree in the woodland area of Glendoick in June. The mature tree was covered in perfect blooms and the lower branches were just at the right height for a close-up picture!
Go to the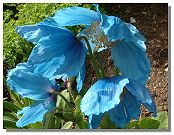 Next Illustration in the series.
Or return to the Thumbnails Index>.
---
Where else would you like to go in Scotland?