- Glendoick Gardens, Angus
- Kalmia



Most of the varieties of Kalmia are evergreen and they produce dense clusters of small, parasol-like flowers from the distinctively-shaped buds. Like rhododendrons and azaleas, they enjoy an acid soil. Glendoick has made a feature of growing different varieties of Kalmia.
Go to the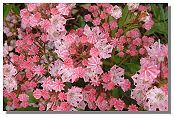 Next Illustration in the series.
Or return to the Thumbnails Index>.
---
Where else would you like to go in Scotland?