- Glendoick Gardens, Angus
- Kalmia



As in this illustration, the inside of the petals of Kalmia are often a different colour from the outside, creating an attractive display. This variety is a lighter pink than the previous Kalmia illustration - and very different from the next one.
Go to the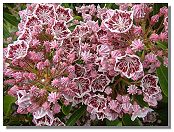 Next Illustration in the series.
Or return to the Thumbnails Index>.
---
Where else would you like to go in Scotland?