- Glendoick Gardens, Angus
- Geum



The vibrant white, red, yellow and orange varieties of the perrenial Geum are popular in suburban gardens across Scotland, not just because of the attractiveness of the blooms but also because it produces a succession of flowers throughout the summer. Behind the Geum and out of focus is an Azalea bush.
Go to the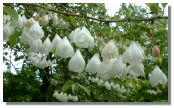 Next Illustration in the series.
Or return to the Thumbnails Index>.
---
Where else would you like to go in Scotland?