- Glendoick Gardens, Angus
- Dicentra Alba



The beautiful white form of Dicentra is not the one usually associated with its alternative names of "Bleeding Heart" and "Dutchman's Breeches" which are mainly red in colour. This particular plant was growing in the demonstration garden.
Go to the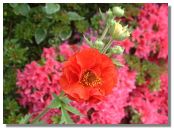 Next Illustration in the series.
Or return to the Thumbnails Index>.
---
Where else would you like to go in Scotland?