- Glendoick Gardens, Angus
- Chaenomoles



The cluster of waxy flowers of Chaenomoles can come in various shades of pink, red, orange and white. Also known as Flowering Quince, the fruits appear at the end of summer. The shrub is a native of China and Japan.
Go to the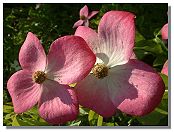 Next Illustration in the series.
Or return to the Thumbnails Index>.
---
Where else would you like to go in Scotland?