- Glendoick Gardens, Angus
- Cornus



Cornus is also known by the rather unattractive name of Dogwood and some of the summer-flowering varieties produce fruits in the autumn/fall which can look like demented, genetically-modified strawberries!
Go to the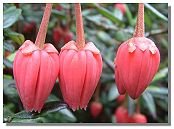 Next Illustration in the series.
Or return to the Thumbnails Index>.
---
Where else would you like to go in Scotland?