- Glendoick Gardens, Angus
- Azalea



Azalea Japonica is a popular plant in Scotland as it is well-suited to the acid soil found in many parts of the country. Glendoick nurseries made a particular contribution to growers of evergreen Azaleas in Scotland by developing varieties which do well in our climate.
Go to the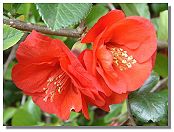 Next Illustration in the series.
Or return to the Thumbnails Index>.
---
Where else would you like to go in Scotland?