- Glendoick Gardens, Angus
- Actinidia Kolomitka



Looking as if a painter had been experimenting with his palette on the leaves of this climbing shrub, Actinidia Kolomitka has large heart-shaped leaves up to six inches long. The colour gradually appears on new leaves but will not show up if they are in shade.
Go to the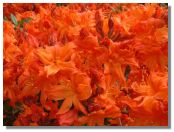 Next Illustration in the series.
Or return to the Thumbnails Index>.
---
Where else would you like to go in Scotland?