- Glendoick Gardens, Angus
- Abutilon Vitifolium Album


Many Abutilon varieties are bell-shaped but the saucer-shaped flowers of Abutilon Vitifolium measure up to three inches across.
Go to the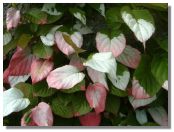 Next Illustration in the series.
Or return to the Thumbnails Index>.
---
Where else would you like to go in Scotland?