Museum of Flight, East Fortune
- Miles M18 Series 2

F.G. Miles began designing and producing trainer aircraft in the early 1930s based on monoplane rather than biplane configuration and had an early success with the Hawk and Magister - the latter was the first monoplane trainer used by the RAF. In an attempt to produce a successor to the Magister, the company produced the Miles M.18. The fuselage was similar to the Magister but had square cut wing and tail surfaces. However, the design was rejected by the Air Ministry and only four aircraft were built.

The Museum of Flight example was initially given a serial number of HM454 but never saw service in the RAF as it served as a company communications aircraft. In the post-war years it wn a number of air races, including the 1961 Kings Cup. When the Strathallan Collection was sold in 1981 it was bought by the Scottish Aircraft Preservation Trust and restored to flying condition. It arrived at East Fortune in 1991.

In the photograph above, the model on the floor in front of the Miles M.18 is of a Miles M.14A Magister, serial number R1914.
Go to the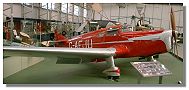 Next Illustration in the series.
Or return to the Thumbnails Index>.


---
Where else would you like to go in Scotland?