Museum of Flight, East Fortune
- Miles M17 Monarch

In the 1930s, a wealthy aviation enthusiast, Whitney Straight, asked F.G. Miles to build a two-seat cabin monoplane for flying club use. The M.11 Whitney Straight first flew in 1936 and a number of these aircraft were produced. An improved model flew in 1938 with three-seat accommodation and this became the Miles M.17 Monarch. But only 11 of this type were manufactured because of the company concentrating on the Master and Magister aircraft for wartime production.

The Museum of Flight's example saw wartime service as a communications aircraft with the RAF serial X9306. After an accident in 1942 it was rebuilt and became a civil aircraft in 1946 with the registration G-AFJU. It was broken up in 1965 and went to the Strathallan Collection to be used as spares. But the Aircraft Preservation Society of Scotland took it to East Fortune and rebuilt it to static display condition.
Go to the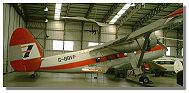 Next Illustration in the series.
Or return to the Thumbnails Index>.


---
Where else would you like to go in Scotland?