Museum of Flight, East Fortune
- Messerschmitt Me163B Komet

The Messerschmitt Me 163 Komet was the world's first and only operational rocket-powered interceptor. The prototype aircraft was first tested in 1941 and reached over 600mph. But problems with the highly unstable liquid rocket fuels, the jettisonable wheels and the retractable skid undercarriage all contributed to a lengthy development programme. First production deliveries were not made until 1944. Fortunately for the Allied aircraft, the closing speed of 800mph meant that the slow-firing cannon could only be used for three seconds before the pilot had to break off the attack. Even so, the Me163 did shoot down RAF Lancasters and USAF B17s in the closing stages of the war.

The Messerschmitt Me 163B-1a Komet in the Museum of Flight has the serial number 191659 and is painted with a yellow "15". It was captured at Husum, Schleswig Holstein at the end of the war and was taken to the College of Aeronautics at Cranfield in 1947. Thereafter, it attended a number of air displays before being refurbished and loaned to the Museum of Flight in 1976.
Go to the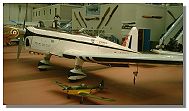 Next Illustration in the series.
Or return to the Thumbnails Index>.


---
Where else would you like to go in Scotland?