Museum of Flight, East Fortune
- McDonell Douglas Phantom F4S

5,195 production models of this most successful, post-war, multi-role fighter have been built since the prototype flew in May 1958. Initially designed as an aircraft carrier based fighter, the US Air Force eventually became the largest user. Eleven other countries, including the UK, also adopted the Phantom. With a maximum speed of around 1,500mph and an initial climb rate of over 61,000 feet a minute, the Phantom had a combat radius of over 780 miles.

The Phantom in the Museum of Flight, serial number 155848, first flew in 1968 as an F-4J with the US Navy. Modified to F4S standard, it was then used by the US Marines and carries their codes "VMFA 232" and "WT 11". It was initially shown at the Fleet Air Arm Museum at Yeovilton in England from 1986 but was handed over to the Museum of Flight in 1999.
Go to the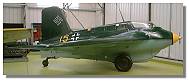 Next Illustration in the series.
Or return to the Thumbnails Index>.


---
Where else would you like to go in Scotland?