Museum of Flight, East Fortune
- Kay Gyroplane

The Kay Gyroplane is a real home-grown machine, having been designed by David Kay and John Grieve of Scone. Their first rotary machine was built by Shields Garage in Perth but the Type 33/1 Gyroplane G-ACVA was built by Oddie, Bradury and Cull and flew for the first time at Eastleigh aerodrome, Southampton, in early 1935. Although it attracted favourable comment from the Air Ministry, G-ACVA was the only one of its type to take to the air.

The Kay Gyroplane is owned by the City of Glasgow Museums and is on loan to the Museum of Flight. Perhaps it will return to Glasgow when the new Museum of Transport is completed on the banks of the Clyde in a few years time?
Go to the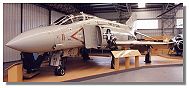 Next Illustration in the series.
Or return to the Thumbnails Index>.


---
Where else would you like to go in Scotland?