Museum of Flight, East Fortune
- Hawker Sea Hawk F1

Designed by Sir Sydney camm, the prototype Sea Hawk (known then as the P.1040) first flew in September 1947 and 95 F.Mk1 and F.Mk2 were produced by Hawker before responsibility was passed over to Armstrong Whitworth. A number of fighter bomber and ground attack versions were developed and the type saw service with Netherlands and Indian navies. Sea Hawks also took part in the conflict in the Suez Canal in 1956 where it served with 807 Naval Air Squadron with the code "124".

The Sea Hawk in the Museum of Flight collection has the serial number WF259 and latterly served with 736 Naval Air Squadron, Lossiemouth Station Flight before becoming an instructional airframe (A2483). The code "171" and the "A" on the tail (denoting the aircraft carriewr HMS Albion) are actually fictitious.
Go to the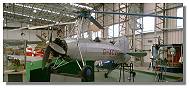 Next Illustration in the series.
Or return to the Thumbnails Index>.


---
Where else would you like to go in Scotland?