Museum of Flight, East Fortune
- Gloster Meteor 14

The night fighter versions of the Gloster Meteor were built by the Armstrong Whitworth company, The Meteor was Britain's first jet fighter and the only Allied jet fighter to see action in the Second World War. But a night fighter version was not built until the N.F.11 version reached the RAF in 1951 - until then, night fighter cover had been provided by the de Havilland Mosquito piston-engined aircraft. The Armstrong Whitworth N.F.14 was the final production version of this aircraft, featuring a clear canopy and an even longer nose to accomodate more powerful radar.

The Museum of Flight aircraft was built initially as an N.F.11 with the serial number WM261. It never served with the RAF, however, being used as a trials aircraft by Armstrong Whitworth and later by the Ferranti electronics company. It was progressively modified to N.F.14 standard. The prominent red cheatline on this aircraft led to it being nicknamed "Mentadent" after a brand of toothpaste which also came with a red stripe! It wass retired in 1969 with only 346 flying hours and is thought to be the Meteor with the lowest number of flying hours in existence.
Go to the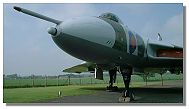 Next Illustration in the series.
Or return to the Thumbnails Index>.


---
Where else would you like to go in Scotland?