Museum of Flight, East Fortune
- De Havilland D.H.84 Dragon

The De Havilland DH.84 Dragon was initially designed to provide an air service between southern England and Paris, France. In Scotland, the Dragon established the first commercial air services in and out of the Highlands and Islands. It could carry six passengers and made its maiden flight in 1932. Production in the UK totalled 115 aircraft and another 87 were built in Australia during WW2 as radio and navigation trainers for the Royal Australian Air Force.

The example owned by the Museum of Flight was built in 1942 in Australia for the RAAF as A34-13 and was later used for commercial services in the Australian outback as VH-ASK and VH-SNB.
Go to the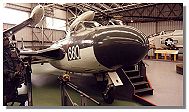 Next Illustration in the series.
Or return to the Thumbnails Index>.


---
Where else would you like to go in Scotland?