Museum of Flight, East Fortune
- De Havilland Sea Venom FAW 22

The De Havilland DH 112 Venom single-seat fighter bombers were developments of the earlier DH 100 Vampire (the RAF's first single-jet fighter) with a more powerful de Havilland Ghost jet engine and swept wings but retaining the "twin boom" tail. The Sea Venom was an all-weather fighter version for the Royal Navy which entered Fleet Air Arm service in 1954. The type was involved in the 1956 conflict in Egypt and the Suez canal. The Sea Venom was exported to Australia and France (who built 75 examples under licence as the Aquilon).

WW145 was built in 1955 as an FAW.21 but was modified to FAW.22 standard by fitting a more powerful engine. It carries the code "680" on the fuselage while the "LM" on its tail denotes its base as Lossiemouth in Morayshire. It was donated to the Royal Scottish Museum in 1972.
Go to the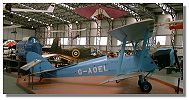 Next Illustration in the series.
Or return to the Thumbnails Index>.


---
Where else would you like to go in Scotland?