Museum of Flight, East Fortune
- De Havilland D.H.80A Puss Moth

The De Havilland DH 80 Puss Moth first flew in 1930 and was one of the first British aircraft to be designed as a monoplane rather than a biplane. It was often used for long distance record-breaking flights, including Amy Johnson who flew in a Puss Moth to Tokyo in 8 days, 22 hours, 35 minutes in 1931. In 1932, the first solo east-to-west crossing of the Atlantic by air was made by Glasgow-born aviator Jim Mollison in a Puss Moth with an additional fuel tank installed in the front cabin.

Initially registered as G-ABDW in 1930, the Museum of Flight's example was the first Puss Moth to fly to Australia (taking four weeks, four days and four hours to get there!). It was registered in Australia as VH-UQB and still wears its Australian Marshall Airways colours. It arrived back in Scotland to form part of the Strathallan Collection and was subsequently bought in 1981 by the Museum of Flight when Strathallan's aircraft were sold off.

By the way, the Puss Moth did not have swept-back wings - the photo shows the wings folded back, a useful feature in a tightly packed museum!
Go to the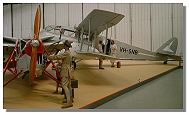 Next Illustration in the series.
Or return to the Thumbnails Index>.


---
Where else would you like to go in Scotland?