Museum of Flight, East Fortune
- English Electric Lightning F2A

The Lightning interceptor fighter was the RAF's first supersonic aircraft and its two Rolls Royce Avon engines (mounted one above the other in the main fuselage) gave it a maximum speed of over 1,500mph and an initial climb rate of 50,000 feet a minute. The type entered RAF service in 1960 with deliveries to No 74 Squadron. In the 1960s and 1970s it was the backbone of Fighter Command but early examples suffered from a lack of range. It was not until the F.Mk 6 (which had double the fuel capacity thanks to a tank grafted onto the lower fuselage) that this problem was resolved. The Lightning was phased out of RAF service in June 1988.

The Museum of Flight's Lightning F2A (XN 776 "C") served with No 92 Squadron at RAF Gutersloh, West Germany and carries their colours. The aircraft was lovingly restored by RAF maintenance crews at Leuchars air base in Fife and was presented to the Museum of Flight in 1982.
Go to the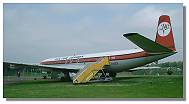 Next Illustration in the series.
Or return to the Thumbnails Index>.


---
Where else would you like to go in Scotland?