Museum of Flight, East Fortune
- De Havilland Comet 4C

The De Havilland Comet first flew in 1949 and was the world's first jet powered passenger airliner. However, pioneering jet aircraft meant that it encountered new problems - metal fatigue. By the time the problem had been resolved, the Boeing 707 and Douglas DC-8 had entered the skies and the Comet struggled to catch up.

The airliner in the Museum of Flight started life in 1961 in the RAF as a Comet C4 XR399. When it was retired from RAF service in 1975, it was sold to Dan Air London and registered as G-BDIX and flew with that independent airline until 1980. When the aircraft was flown into East Fortune in 1981 it was the last Comet to fly in commercial colours.
Go to the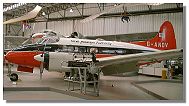 Next Illustration in the series.
Or return to the Thumbnails Index>.


---
Where else would you like to go in Scotland?