Museum of Flight, East Fortune
- BAe Jetstream 3100

The escalating development costs of the Jetstream transport resulted in the bankruptcy of the long etablished Handley Page company and the design was taken over by Scottish Aviation at Prestwick airport in Ayrshire. Later, Scottish Aviation became part of British Aerospace (BAe). The Jetstream saw service with the Royal Air Force and the Royal Navy as well as being sold to civil airlines as a feeder aircraft. A number were converted and re-engined by Riley Aircraft in California.

The example in the Museum of Flight is G-JSSD though earlier in its life it was registered as N510F, N12227 and G-AXJZ. This particular aircraft was originally built by Handley Page in 1969, but reconditioned as the Series 31 development aircraft.
Go to the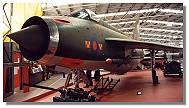 Next Illustration in the series.
Or return to the Thumbnails Index>.


---
Where else would you like to go in Scotland?