Museum of Flight, East Fortune
- Avro Vulcan B. Mk2

The Avro Vulcan was one of Britain's nuclear bomb carrying "V-bombers" (the others were the Vickers Valiant and the Handley Page Victor) and first flew in August 1952. It was the world's first delta winged bomber and entered RAF service in 1960. Powered by four Rolls Royce Olympus engines, the Vulcan cruised at 625mph and had a range of 4,600 miles. It has a wing span of 111 feet and a length of just under 100 feet. This example (XM597) flew operationally in the Falklands' war in 1982.
Go to the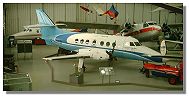 Next Illustration in the series.
Or return to the Thumbnails Index>.


---
Where else would you like to go in Scotland?