Museum of Flight, East Fortune
- General View

Like many other aviation collections, the Museum of Flight is short of display space but at least with aircraft it is very appropriate to show them hanging in mid air from the roof! The strange looking micro-light painted in gold and white is a Eurowing EW-21 Goldwing. It was built in a workshop at Balfron in 1981 and flew for the first time at Cumbernauld Aerodrome in Fife on May 30th 1982. It was presented to the Museum of Flight by Fergus McCann, one of its former owners and a former Managing Director of Celtic Football Club.

The red aircraft on the floor is a Miles M17 Monarch, which first flew in 1938. During the war it saw service in the Royal Air Force as X9306. To the right of this aircraft is the Pilcher Hawk glider, the oldest heavier-than-air aircraft in the United Kingdom. It was built in 1896 by Percy Pilcher based on gliders designed by Otto Lillienthal.

The aircraft in camouflage in the foreground of this picture is a General Aircraft GAL.42 Cygnet II, RAF serial number ES915. This is one of only two aircraft of this type left in the world. It was Britain's first all-metal monoplane with a tricycle undercarriage and enclosed cabin. Only nine examples were built and it was used to train crews in operating American aircraft types with a tricycle undercarriage, such as the Douglas Boston and Bell P-39 Airacobra.

The white-painted aircraft in the foreground is a Miles M18 (G-AHKY). Only four of this type of aircraft were built.
Go to the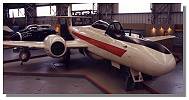 Next Illustration in the series.
Or return to the Thumbnails Index>.


---
Where else would you like to go in Scotland?