Museum of Flight, East Fortune
- General View

There are two main display buildings at the Museum of Flight - the main hangar and another focusing on jets and rockets. Restoration and preservation work in other buildings is not usually open to the public. This picture shows part of the the main hangar which displays historic aircraft, mainly from the first half of the 20th century - the Vickers Supermarine Spitfire and the Messerschmitt Me163B Komet are shown here. The glider hanging from the roof is a Slingsby Cadet TX1 from the 1940s.
Go to the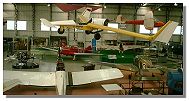 Next Illustration in the series.
Or return to the Thumbnails Index>.


---
Where else would you like to go in Scotland?