Glasgow Photo Library
- Underground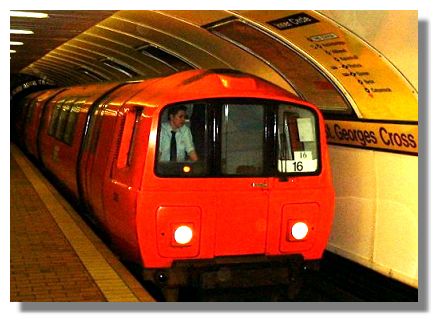 The involvement of Glasgow in engineering from an early age meant that the city was in the forefront when railways were being developed in the latter half of the 19th century. In addition to a number of mainline stations being built, the "Glasgow District Subway" started operation in 1896. It was originally cable-driven and was electrified in 1935.

The route is one complete circle with two lines of tracks in two separate tunnels - one going clockwise and the other anti-clockwise. It covers a distance of 6.5 miles (10.5 kilometres) on four feet guage track around the city - a complete circuit takes just 25 minutes.

In 1979 it was modernised and the new trains were given an orange livery. The local Glaswegians immediately dubbed it the "Clockwork Orange". Since then, the trains have been repainted a different colour, but the name has stuck.
Go to the next Glasgow location:

University of Glasgow
Or return to the Glasgow Photo Library Index>.


---
Where else would you like to go in Scotland?