Glasgow Photo Library
- Tradeston Bridge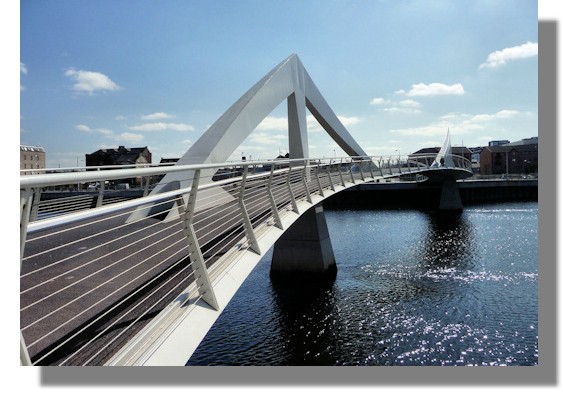 Tradeston Bridge, known locally as the "Squiggly Bridge" is a pedestrian bridge across the river Clyde between the international financial centre in Anderston on the north bank (seen in the graphic on the right) and Tradeston on the south bank to aid the regeneration of the more prosperous district with its large office blocks. It was designed by a Danish architectural company and can be used only by pedestrians and cyclists. The span is curved in an S shape which prompted its nickname. It opened in 2009 and the steel "fins" form the main structural support (seen clearly in the graphic below) and by placing these elements above deck, the deck's structural thickness can be reduced while the visual interest of the structure is enhanced.

Go to the next Glasgow location:

Underground
Or return to the Glasgow Photo Library Index>.


---
Where else would you like to go in Scotland?