Glasgow Photo Library
- Scotland Street School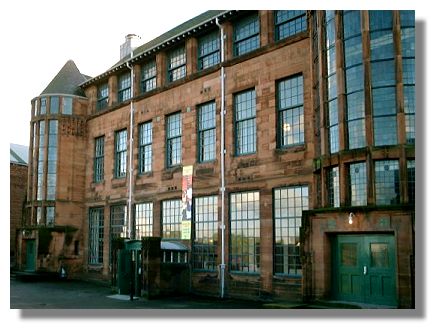 There cannot be many state schools with such a pedigree! In 1903, Charles Rennie Mackintosh received the commission for Scotland Street Primary School. But it took until 1906 before it was completed. Part of the reason for the delay was the running battle between Mackintosh (who wanted to introduce his design elements) and the school board (who wanted a standard school board product, within budget).

Mackintosh was given the basic symetrical school layout, with a separate entrance for boys and girls. However, instead of a boring, plain building, Mackintosh created above each entrance a soaring, traditional Scottish tower. But instead of solid stone with small windows he turned the concept on its head and made the towers almost all in glass - with Mackintosh design embellishments. The stonework at the top of the towers has some inspired Mackintosh mouldings which give life to the move from wall to windows.

The building is no longer used as a school but has been transformed into a museum which not only demonstrates Mackintosh's creativity but also what school life was like in the early 1900s. Some of the classrooms have been appropriately given over to displaying art work from the students of the Glasgow School of Art and some have been restored to have the look and feel of classrooms in the 20th century - with rigid ranks of wooden desks, ink wells, blackboard and appropriate educational posters on the wall.

See also Places to Visit - Scotland Street School> for more information and illustrations.
Go to the next Glasgow location:

Scottish Exhibition and Conference Centre
Or return to the Glasgow Photo Library Index>.


---
Where else would you like to go in Scotland?